Jun 22, 2020 07:04 PM Central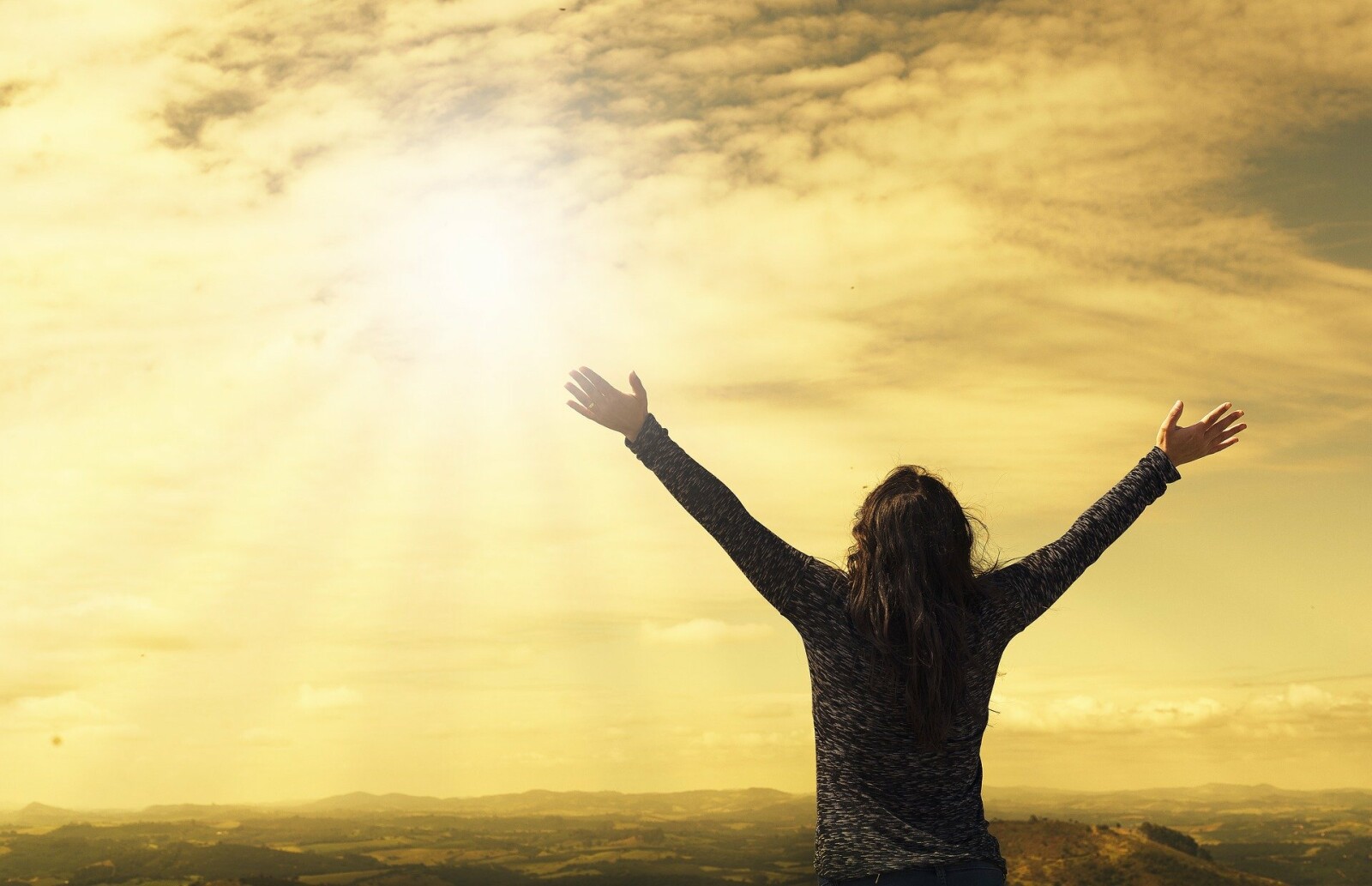 I am sitting here trying to determine if I have even made any progress in my life when it comes to releasing perfection and embracing the Lord's grace. This is the struggle of perfectionism. We look at ourselves and sometimes just can't see where we are succeeding. Our expectations are so high we never ever meet them, and so in our minds, we are not doing well. Even though that is not the truth.
Today I made a new friend through a group I am in on Facebook. It was totally a God thing and we ended up talking on the phone for a good hour. In our conversation, I was reminded that Satan will use our need for perfection to keep us from seeing, doing, going… You see wherever we allow him to sneak in, he will use it.
In what ways are you being held back because of your fear of things being not quite right yet?
In what ways are you not seeing what you are doing well?
My challenge to you - turn that around! Seek the truth.
For me...
When I can't see what's good or things feel mundane - I slow… I stop, or I feel discouraged because there's no momentum or fire.
I tend to look at my behavior and look at what was wrong with it vs what was good.
So instead, I no longer allow the bad mom days to destroy me and snowball into another bad mom day.
I am learning to DO even if it's not quite right yet.
I am learning to look at how I handle things and tell myself what was good about it. I also look at the things I didn't like and look at how I can do better instead of beat myself up.
This doesn't mean I lower my standards to grow and become more like Christ. It does mean that I choose to be still with Christ while I work through the junk.
Remember, He loves you no matter what. Freedom comes from accepting His love completely.
May 15, 2020 09:01 PM Central
Hey Friends! I cannot believe summer is almost over. The days are absolutely gorgeous, aren't they? Gosh! I love it!
With this time of year comes all kinds of planning and prepping in the Meyer house. I went into summer thinking I was going to just kill it cuz the big kids would be home. Nope... I was wrong. I struggled BIG time to balance mommyhood and business. AND because I did not plan ahead I sure as heck was unable to work ahead let alone just keep up. I felt like things just fell apart. And you want to know what - I KNOW BETTER! That's real-life though. Nobody has it all together, no one is perfect and everyone falls down sometimes. So, at the end of July, I was like - this cannot happen another month! NO MORE! AND school will be here before I know it! Get it together Amanda! You know how to do this! I put on my planning hat and got to work - no more looking back - just looking forward! We all need to kick ourselves in the butt occasionally.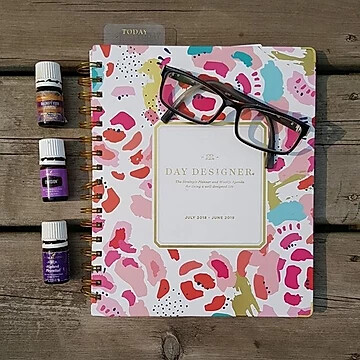 I kicked myself and thankfully others have kicked me in the rear more times than I can count in the last year. Holy buckets friends. Miracles in the mess...
What does this #momboss planning look like for me? Well, I'll tell you some of my basics!
First, I'm going to tell you about a couple of things I was already staying consistent with:
1. I MEAL PLAN
2. I GROCERY SHOP ONCE every 2 Weeks
3. I work with the kids to keep the basic picking up done daily - just enough to keep the chaos down.
4. I planned out each month's events ahead of time
Next up - I've done these things for YEARS but began struggling to stay consistent with them when I had O.
1. Daily Quiet Time with Jesus
2. Daily Self Development
3. Regular Exercise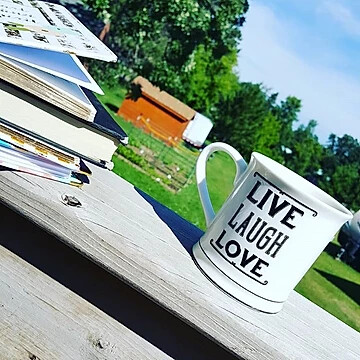 Next - Friends my real struggles. These things definitely can hold me back if I am not careful!
1. Social Media - Like many, I can lose myself so quickly here. Time sucker, right?!?!?
2. Being present as a mom. I was good at this when I worked and came home and could put work away. When I began building my businesses and did both, my kids lost me. I was so focused elsewhere. I always knew when they began to really act out that I had been too unavailable. I refuse to let that happen anymore yet, I still battle it every single day. I have to remind myself that I will not sacrifice my family. Planning is key for me here.
Finally, what did I recently implement?
I seriously mapped out my month friends! I made a task plan.
Ok, so I have 2 documents. GET IT ON PAPER! I created mine on Google Docs so I can share it with other mombosses.
One document is a set of lists. It includes a list for Daily Self Development, a list for my Daily Power Hour, Weekly Tasks, Monthly Tasks. This allows me to break it down each day to make sure the most important things get done. I can pick monthly and weekly items the day before so I already know what will get accomplished. It is so helpful. What I love about this is that on the days that I can hammer through it all, I have the plan to keep me focused. On the days that O has to nurse all day because of you know - teething - I can be ok with the 1 broken up hour I may get.
The second document is the Month as a WHOLE. It shows what my schedule is for my Business for Social Media, what events I have for the month, my schedule for my team education, and everything I will teach on. THIS WAS SO HELPFUL for me! I love it when I get a day where I can get all the week's items prepped ahead of time but when I don't it is less likely for me to get behind because I am no longer overwhelmed! This is so key for me! I hate not knowing where to start! And... now that August is half over I am working on planning out September and October.
I like to schedule and routine - most people do. That structure helps us redeem our time well.
I still have a lot of work to do to take care of the tasks that I don't necessarily like taking care of. The plan in tackling those is actually scheduling out the days I do them as I plan out my calendar each month friends. I am a big believer in don't make ALL.THE.CHANGES at once. Master a step, or a few at a time. Not 100!
In addition friends, school and a part-time job outside the home is going to make life a bit more crazy. So, I am taking my meal planning to a new level. As a family we will get lunches and breakfasts prepped out each weekend to make it easy on the daily. I know I know, some of you think all the planning is crazy. BUT for me, it is a necessity for success - really, having a plan is necessary for everyone for success. AND LESS STRESS! But I remind myself to do it all with grace because we cannot control all the things and sometimes, it just won't all work out.
With that note - who wants some super easy Egg Bake Muffins?
We ran out by Thursday and I made them Monday!
I will be making more as soon as I finish this post! The best part of these is that you can change up what you put in them - it's really up to you!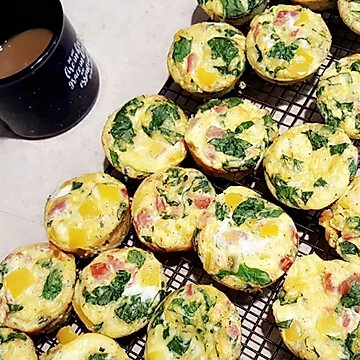 Egg Bake Muffins
Items you need - 2 muffin tins, well greased (I used coconut oil), a cutting board, a nice sharp knife (I used my chopping knife), bowl, and a whisk. Preheat oven to 350*
Ingredients:
20 Eggs
1 Yellow Bell Pepper chopped
3 cups Spinach chopped
1/2 cup Onion chopped
1 can Rotel (Small Can)
4oz Shredded Cheddar Cheese
Garlic Salt
Pepper
Directions:
Whisk eggs well, add seasoning, whisk again. Toss all chopped ingredients into the mix. Fill muffin cups to the top. Bake for 20 to 30 minutes (I honestly don't remember, I cook by my nose!) Make sure they are no longer liquidy and should get a slight golden color on top.
Basic Nutritional Info: (off my input from My Fitness Pal)
Serves 12 (2 egg muffins is a serving)
145 Calories
3.5g Carbs
9g Fat
11.9g Protein
Well, friends - I hope you found something helpful here and if you need help setting up a plan and want to see my lists - comment below with your email and I'll get them shared with you!