May 8, 2020 09:22 PM Central
Dec 7, 2017
Hey there! Happy Thursday! I hope you are having an amazing day! Tis the season for soups and one of our favs and budget-friendly soups is Tomato Soup! So - I am NOT a photographer BUT I feel that pictures help all of us visual peeps! So... if you are one of the lovelies that have asked me for my recipe - I did it, I put one together. For ALL of you - I hope you try it and love it just as much as we do!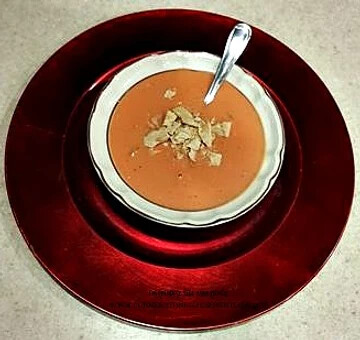 So um... I DO NOT MEASURE and I don't follow a recipe very well when I cook! Baking is different (well not all the time), but we are not talking about baking today. Don't get me wrong, I use recipes - I just ALWAYS change them. IKR! Frustrating for some of you.... My sister used to tease me about this a lot. So, when I am asked for recipes, I am like... "Um, I can tell ya what I put in it..."
I finally decided that it's time to start taking some of those things I make and figure out those recipe details for others. You want to know what? The best part about needing to have a recipe guide is that someday my kids can have mama's recipes. This makes my heart smile so much.
With this being my first REAL food post, I want to share a bit about our 'food life' before I get into the nitty-gritty of tomato soup. Thirteen years ago we began a journey of cooking from scratch instead of from the jar or box. We knew this was healthier. YET we had SO much to learn. During this time we have become crazy label readers. Our kids even look at ingredients and nutrition labels. IKR?!?! "It has this much sugar per serving mom." Do we occasionally break and make a boxed cake or whatnot - yeah sure... it just is not our preferred choice AND it is RARE! I don't know how many times my mama has said "Wheres your Bisquick?" "Um, Mom, I have never kept that in my pantry." I have learned that making pancakes or biscuits from scratch is so crazy easy! AND my body responds to food so much better when it isn't loaded with all kinds of junk! Now... our budget doesn't allow for our diet to be as clean as we'd like but we do our best with what we have.
One of the FIRST things we looked for on labels was high fructose corn syrup. It was in EVERYTHING 13 years ago! Oh.My.Word! We were able to remove pretty much everything except tomato soup. I was afraid of making it homemade - I had tried as a teen and had an epic fail! So we bought brand after brand but nothing tasted right compared to the kind we were used to. Eventually, I became determined to make it homemade. I began searching the internet, magazines, and cookbooks for recipes. I tried recipe after recipe and my kids HATED them! I almost gave up. I am so glad I didn't. I finally took everything I had learned from the recipes and created my own. The problem... I don't measure, I dump. I determine everything off visual, smell, and taste. Thanks, Mom & Dad! So, although the soup was the same, it was always slightly different too.
So... Let's get started. First, it's always easier if you gather all your ingredients in the beginning (see recipe below).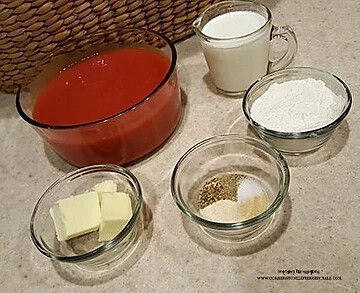 You will want to start by making a roux! Do NOT skimp on the butter. REAL butter makes EVERYTHING better! Here's what ya do - get a nice saucepan, melt your butter, and slowly whisk in your flour. It should get thick and slightly golden or brownish colored. Slowly add your milk and whisk. Next, you add my secret ingredient - Concentrated Chicken Stock - PURE Chicken Stock - READ YOUR LABEL! Whisk this in well and then add your seasonings. Mix well and TASTE! It is OK if it tastes a bit salty or super flavorful at this point.

In a separate kettle, you should have your tomato sauce on low to medium heat (or you could do your roux in your kettle and add your tomato sauce). If I was a gardener, I would have my very own but instead, I buy tomato sauce (we like to be sure that ours has no icky ingredients add and that the cans are BPA FREE).

Once you have combined your roux and tomato sauce you will add your milk. I added 2 cups BUT you can add more or less. You could even add cream, half and half, or a milk alternative. Up to you and the flavor you are looking for. (FYI on a leftover day - it had thickened up and I just added more milk until I had the consistency I wanted)
Once this is heated and blended well together, I taste. At this point, I will determine if I want to add any extra seasoning to my soup. I also add a little Basil Vitality Essential Oil. When you add the Basil you will take the dropper off the top, dip a toothpick into it and then swirl into your soup. I did this 2 times for this batch of soup. I did add extra pepper and Italian seasoning for my family's preferences. I did not adjust the measurements in the recipe as some may not like things as seasoned. This is WHY tasting is important.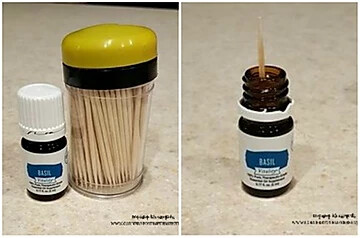 We love to have grilled cheese on Chad's homemade bread or my homemade biscuits with this soup. And... we can't go without some whole wheat saltines (someday I will attempt these homemade - someday). The girls get SO EXCITED! I swear this is one of their favorite comfort foods. And Orion just LOVES it - see the mess!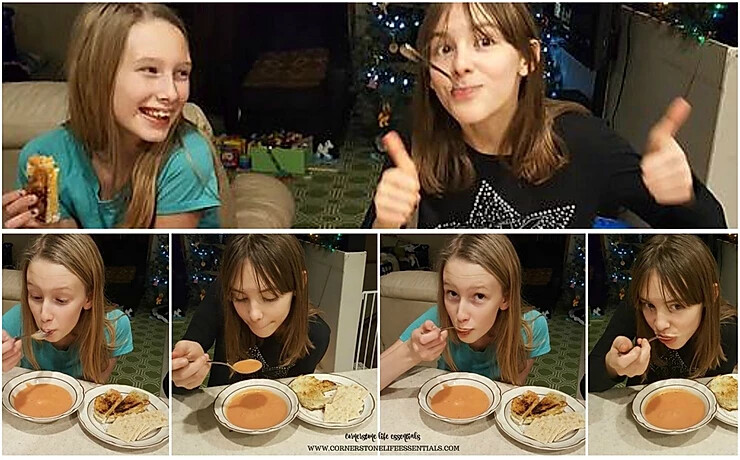 Other fun things you can do with this soup:
Add diced, stewed, or crushed tomatoes at the end for texture.
Use fresh onion and caramelize prior to making your roux and then puree or leave chunky.
Add fresh basil into the soup or to garnish.
Use minced garlic instead of garlic powder.
Have fun with it!
Anywho - I hope you try this and LOVE it as much as my family and friends have loved it!
Oh and... I don't have the nutritional info - as I just focus on eating REAL food as much as I can vs calories (but we are not perfect...)etc... Enjoy!
Tomato Basil Soup
Ingredients:
1/2 cup Real Butter
1 cup flour (white or wheat)
60oz Tomato Sauce
1 tablespoon Concentrated Chicken Stock
4 cups Whole Milk (2 for Roux, 2 to add to Soup Later)
1 teaspoon Onion Powder
1/2 teaspoon Garlic Powder
1/2 teaspoon Italian Seasoning
1/2 teaspoon salt
1/4 teaspoon Pepper
1. Put the tomato sauce in a kettle to heat up on low to medium heat in another kettle.
2. In a separate saucepan - melt the butter, add flour to make a roux, add 2 cups of the milk slowly (not all at once), and whisk well.
3. Add Chicken Stock and seasoning, mix well.
4. Add Roux to tomato Sauce
5. Add the rest of the milk to the mixture
6. Optional: Toothpick into basil vitality essential oil - swirl into soup
7. Taste test and add extra seasoning as needed
8. Serve, garnish as you wish & serve with your favorite soup sides!