May 15, 2020 09:01 PM Central
Hey Friends! I cannot believe summer is almost over. The days are absolutely gorgeous, aren't they? Gosh! I love it!
With this time of year comes all kinds of planning and prepping in the Meyer house. I went into summer thinking I was going to just kill it cuz the big kids would be home. Nope... I was wrong. I struggled BIG time to balance mommyhood and business. AND because I did not plan ahead I sure as heck was unable to work ahead let alone just keep up. I felt like things just fell apart. And you want to know what - I KNOW BETTER! That's real-life though. Nobody has it all together, no one is perfect and everyone falls down sometimes. So, at the end of July, I was like - this cannot happen another month! NO MORE! AND school will be here before I know it! Get it together Amanda! You know how to do this! I put on my planning hat and got to work - no more looking back - just looking forward! We all need to kick ourselves in the butt occasionally.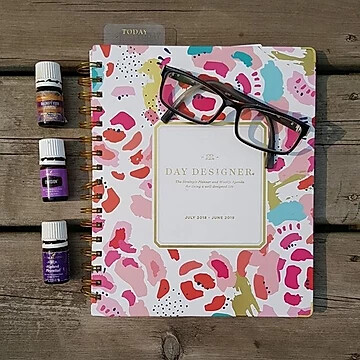 I kicked myself and thankfully others have kicked me in the rear more times than I can count in the last year. Holy buckets friends. Miracles in the mess...
What does this #momboss planning look like for me? Well, I'll tell you some of my basics!
First, I'm going to tell you about a couple of things I was already staying consistent with:
1. I MEAL PLAN
2. I GROCERY SHOP ONCE every 2 Weeks
3. I work with the kids to keep the basic picking up done daily - just enough to keep the chaos down.
4. I planned out each month's events ahead of time
Next up - I've done these things for YEARS but began struggling to stay consistent with them when I had O.
1. Daily Quiet Time with Jesus
2. Daily Self Development
3. Regular Exercise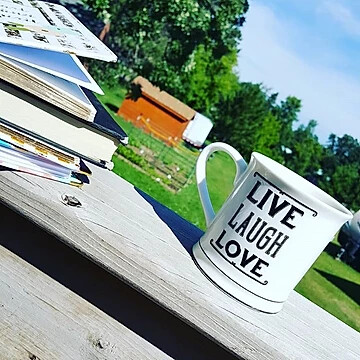 Next - Friends my real struggles. These things definitely can hold me back if I am not careful!
1. Social Media - Like many, I can lose myself so quickly here. Time sucker, right?!?!?
2. Being present as a mom. I was good at this when I worked and came home and could put work away. When I began building my businesses and did both, my kids lost me. I was so focused elsewhere. I always knew when they began to really act out that I had been too unavailable. I refuse to let that happen anymore yet, I still battle it every single day. I have to remind myself that I will not sacrifice my family. Planning is key for me here.
Finally, what did I recently implement?
I seriously mapped out my month friends! I made a task plan.
Ok, so I have 2 documents. GET IT ON PAPER! I created mine on Google Docs so I can share it with other mombosses.
One document is a set of lists. It includes a list for Daily Self Development, a list for my Daily Power Hour, Weekly Tasks, Monthly Tasks. This allows me to break it down each day to make sure the most important things get done. I can pick monthly and weekly items the day before so I already know what will get accomplished. It is so helpful. What I love about this is that on the days that I can hammer through it all, I have the plan to keep me focused. On the days that O has to nurse all day because of you know - teething - I can be ok with the 1 broken up hour I may get.
The second document is the Month as a WHOLE. It shows what my schedule is for my Business for Social Media, what events I have for the month, my schedule for my team education, and everything I will teach on. THIS WAS SO HELPFUL for me! I love it when I get a day where I can get all the week's items prepped ahead of time but when I don't it is less likely for me to get behind because I am no longer overwhelmed! This is so key for me! I hate not knowing where to start! And... now that August is half over I am working on planning out September and October.
I like to schedule and routine - most people do. That structure helps us redeem our time well.
I still have a lot of work to do to take care of the tasks that I don't necessarily like taking care of. The plan in tackling those is actually scheduling out the days I do them as I plan out my calendar each month friends. I am a big believer in don't make ALL.THE.CHANGES at once. Master a step, or a few at a time. Not 100!
In addition friends, school and a part-time job outside the home is going to make life a bit more crazy. So, I am taking my meal planning to a new level. As a family we will get lunches and breakfasts prepped out each weekend to make it easy on the daily. I know I know, some of you think all the planning is crazy. BUT for me, it is a necessity for success - really, having a plan is necessary for everyone for success. AND LESS STRESS! But I remind myself to do it all with grace because we cannot control all the things and sometimes, it just won't all work out.
With that note - who wants some super easy Egg Bake Muffins?
We ran out by Thursday and I made them Monday!
I will be making more as soon as I finish this post! The best part of these is that you can change up what you put in them - it's really up to you!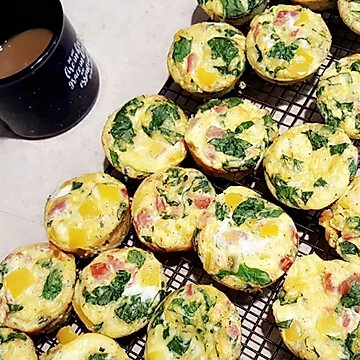 Egg Bake Muffins
Items you need - 2 muffin tins, well greased (I used coconut oil), a cutting board, a nice sharp knife (I used my chopping knife), bowl, and a whisk. Preheat oven to 350*
Ingredients:
20 Eggs
1 Yellow Bell Pepper chopped
3 cups Spinach chopped
1/2 cup Onion chopped
1 can Rotel (Small Can)
4oz Shredded Cheddar Cheese
Garlic Salt
Pepper
Directions:
Whisk eggs well, add seasoning, whisk again. Toss all chopped ingredients into the mix. Fill muffin cups to the top. Bake for 20 to 30 minutes (I honestly don't remember, I cook by my nose!) Make sure they are no longer liquidy and should get a slight golden color on top.
Basic Nutritional Info: (off my input from My Fitness Pal)
Serves 12 (2 egg muffins is a serving)
145 Calories
3.5g Carbs
9g Fat
11.9g Protein
Well, friends - I hope you found something helpful here and if you need help setting up a plan and want to see my lists - comment below with your email and I'll get them shared with you!